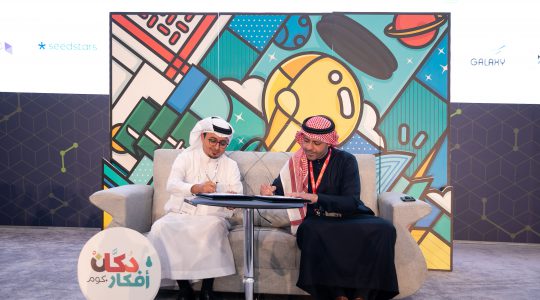 BIAC leads investment round for Dokkan Afkar
Riyadh, 10 December 2019: Dokkan Afkar, a leading Saudi-based e-commerce marketplace dedicated to selling homegrown and innovative gadgets, gizmos and gifts, announced it has closed a SAR 19 million ($5.6 million) in Series B funding round, led by the Business Incubators and Accelerators Company (BIAC).
The Series B funding round was joined by existing investors – Riyad TAQNIA Fund, the Saudi Venture Capital Company (SVC) along with a number of local investors, most notably Mishal Ali Reda, who has invested in the startup's third consecutive funding round.
Dokkan Afkar plans to use the new capital to continue its growth and expansion throughout the Middle East, focusing on increasing its products and product inventory with the vision of attracting a larger and more diverse customer base.
The company will also add new creative talent and suppliers to support its various department categories, as well as offer several exciting employment opportunities for Saudi youth.
"We have learned a lot over the past six years, and have been progressing and moving from one success to another," said Dokkan Afkar co-founder and CEO, Ammar Waganah.
"We now look forward to moving towards our next phase of the business, which is expanding into the rest of the Arab region, followed by entering into a number of international markets. We're immensely proud that Dokkan Afkar is one of Saudi Arabia's leading startups dedicated to promoting a vibrant e-commerce ecosystem that is in line with the Kingdom's Vision 2030 plan," he stated.
On his part, Nawaf Al Sahhaf, CEO of the Business Incubators and Accelerators Company expressed his gratification at leading this investment round, in line with BIAC's strategy to facilitate entrepreneurship and innovation in the Kingdom.
He added that the success of this latest funding round is a result of Dokkan Afkar's exemplary growth over the past few years, which has strengthened the position of the brand in the region's growing e-commerce sector.
Al Sahhaf also stated that investing in Dokkan Afkar was an excellent opportunity for the company to explore, develop and expand its business and customer base in other target markets.
Mishaal Ali Reza, who is a member of the Board of Directors of Dokkan Afkar, concluded: "The Company now has a fantastic opportunity to expand, and deliver homegrown Saudi brands to a wider audience in the rest of the Arab world, as well as globally. We hope that the website will become the platform to promote the export of Saudi products, contributing to the digital economy as per Vision 2030."
Established in 2013, Dokkan Afkar – which translates into "Shop of Ideas" – is an online retail service that sells a wide range of uniquely creative and innovative products, with a strong focus on promoting local homegrown creative talent and suppliers.