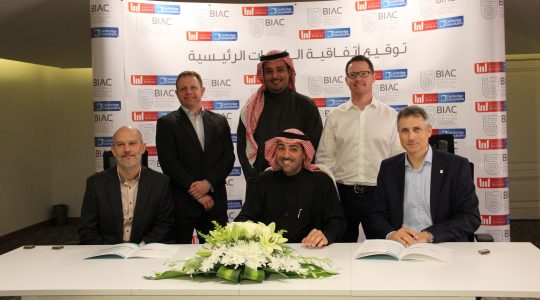 BIAC and Cambridge Consultants Sign Agreement to Develop Technical Products in Saudi Arabia
Riyadh, 03 March 2019 – Business Incubators and Accelerators Company (BIAC), a wholly-owned subsidiary of the Saudi Development and Technology Investment Company (TAQNIA), which is owned by the Public Investment Fund, signed a joint cooperation agreement with Cambridge Consultants Co., under which the latter will develop technical and research products and transfer them into commercial projects in line with the Saudi Vision 2030.
The agreement was signed by Mr. Nawaf Al-Sahaf, CEO of BIAC, and Mr. Gary Kemp, Program Manager at Cambridge Consultants, in the presence of several senior officials from both sides.
Nawaf Al-Sahaf, CEO of BIAC, said that the agreement is aimed at promoting creativity and innovation in the Kingdom, as well as developing and enhancing the innovative environment.
"The agreement aims at transferring global expertise and applying best practices and modern technology in line with the Saudi government directions to support investments in technology and innovation solutions in a way that strengthens its leadership role in the field of research and development."
Al-Sahaf emphasized that the joint cooperation agreement with the British company falls within the framework of a wide variety of efforts undertaken by BIAC to promote the growth and development of the innovation and entrepreneurship environment, as well to support emerging technology companies. These efforts are in accordance with the Vision 2030 and its objectives, which include supporting SME entrepreneurship and increasing their contribution to the Gross Domestic Product (GDP).
Established in 2017, BIAC aims to operate and manage entrepreneurship support platforms, innovation and technology transfer programs, in addition to project management, specialized consultancy, training services and human resource capacity building.